Cosmetology School
There's never been a better time to join the beauty field as an expert with hair, skin, nails, or makeup. Heavier interest in wellness and anti-aging, as well as more men seeking out cosmetology services, may be just two reasons that the Bureau of Labor Statistics (BLS) expects beauty jobs to grow by 8% in the decade between 2018–2028, which is faster than average.
Skip to popular topics on this page: What Is Cosmetology? | What Does a Cosmetologist Do? | Cosmetology School Requirements | Cosmetology School Cost | Cosmetology School Program Length | Cosmetology School Curriculum | How to Choose a Cosmetology School | Cosmetology Schools by State
If you've always been intrigued by the beauty industry and want to make it your profession, this page will give you a feel for what to look for in a program and how to choose a school. You'll get an overview of what you'll learn, how long it takes to complete your training, and program costs. You'll also learn how the licensing and certification processes work after your training is complete.
Learn More About Cosmetology
Cosmetology is the art and science of beautifying the skin, hair, and nails. Cosmetologists are masters of treatments, procedures, and therapies that help their clients accentuate their best features and present a more attractive version of themselves.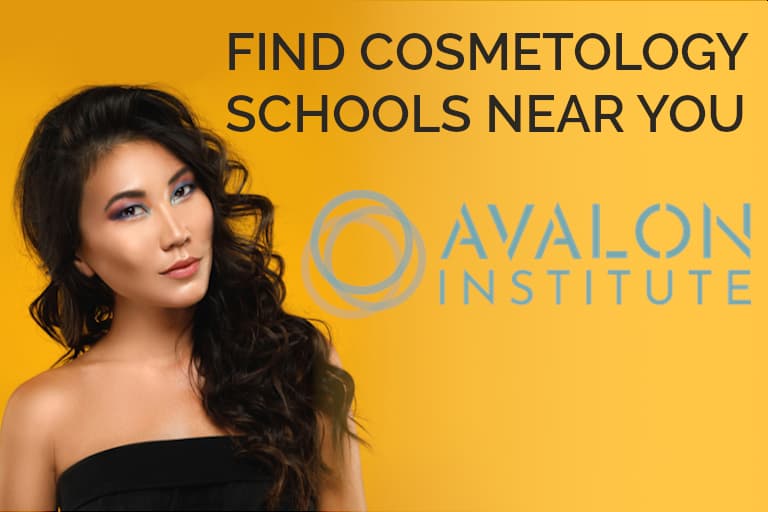 sponsored content, school availability varies by location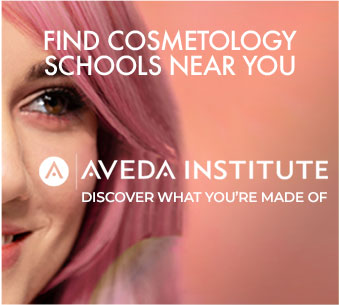 sponsored content, school availability varies by location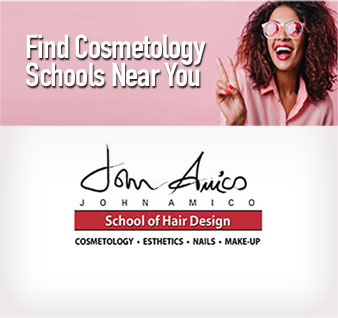 sponsored content, school availability varies by location

sponsored content, school availability varies by location

sponsored content, school availability varies by location

sponsored content, school availability varies by location
Cosmetologists perform treatments, apply products, and offer guidance and counsel on the cosmetic treatment of hair, skin, and nails. "Cosmetology" is an umbrella term that covers numerous beauty services and specialties, many of which can be specialized careers in their own right. Becoming a licensed cosmetologist allows you to offer a range of services to clients, such as:
Hair Styling and Cutting
Hair design involves cutting, shaping, texturing, styling, coloring, bleaching, curling, tinting, and treating hair. Typically, hair design is the biggest focus in total hours within a cosmetology program.
Skincare and Esthetics
Esthetics is the field of skincare. If you want to focus exclusively on skincare services, you may want to consider (typically shorter) esthetician school programs and pursue an esthetician license in your state. However, if you want to offer skincare services from an overall menu of beauty services, your cosmetology program will give you that flexibility by teaching you basics of treatments like exfoliation, skin conditioning, wrinkle reduction, facials, tanning, skin detox, masks, or anti-aging procedures.
Nail Services
With a cosmetology license, you will be able to perform manicures, pedicures, and other treatments specific to nails and cuticles. Some cosmetologists may do nail artistry, including nail jewelry and the application of gels and acrylics. Those seeking to be a nail technician that only offers nail services should attend a nail tech program, which is much shorter in hours than a full-fledged cosmetology program.
Makeup
Cosmetologists can apply makeup, such as special occasion and event makeup (think photoshoots, weddings, proms, or fashion shows). Some may work with film or theatre directors to achieve special effects on actors. Specializing as a makeup artist (MUA) may require specialized training with advanced techniques from a makeup academy, but a cosmetology program will teach you enough basics that you can bundle makeup application with other beauty services for clients.
Other Services
Because cosmetology is an "umbrella" licensure, you may offer other services that may be more specialized or that are for a specific audience or clientele. For instance, popular beauty niches may include hair braiding (a highly skilled specialty in which a beautician twists, pulls, and ties Black or African-American hair into intricate patterns and shapes), permanent makeup, or electrology.
Cosmetology School: What to Expect
Long referred to as "beauty school," cosmetology school provides both the academic and hands-on training required to master the trade. Since it teaches proficiency in so many disciplines, the training is incredibly involved and requires focus and dedication.
I've had clients look in the mirror … and start crying because they actually agree that they look pretty and have no criticisms for themselves, for once. It's a really touching and empowering moment for clients that can make all the difference on an important day in their lives. I love helping people find that confidence in themselves.
Until now, you may have experienced only some form of traditional education—that is, one that focuses on academics over hard and soft skills for the workforce. Traditional community and four-year college degrees such as an associate or bachelor's may focus on a well-rounded education. Cosmetology school, on the other hand, focuses more on skills and knowledge that will relate directly to your future career. Your education will include both "book learning" and hands-on training. In most cases you will learn all aspects of cosmetology—skin, nails, makeup, etc. Most schools offer cosmetology classes five days a week. If you attend cosmetology school as a full-time student, you'll be in class or doing training hours six to eight hours every day.
Enrollment requirements vary by school, program, and state. The primary requirements focus on age and education. You'll have to be at least 16 years old, 18 in some places. Some states require a high school diploma or a GED, but others do not. In some cases, however, you might have to take supplementary courses or exams if you're not a high school graduate.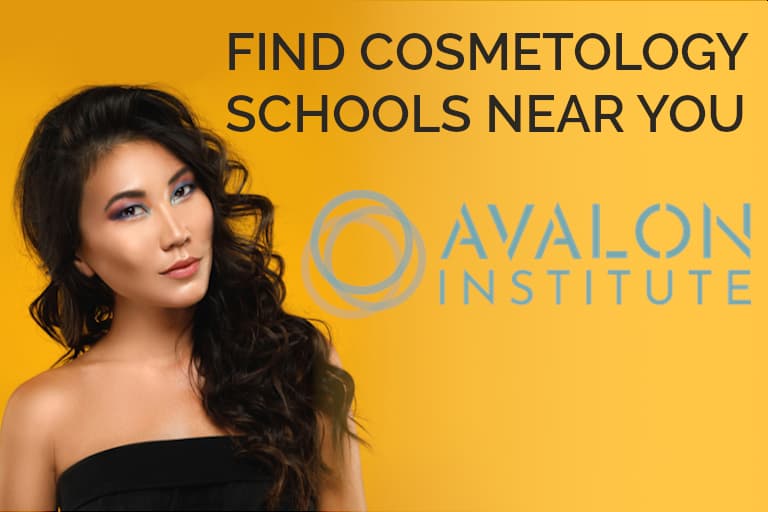 sponsored content, school availability varies by location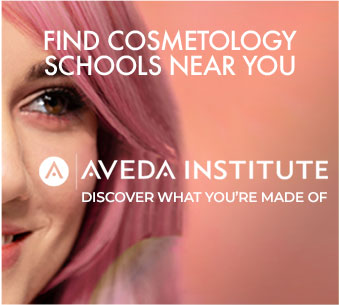 sponsored content, school availability varies by location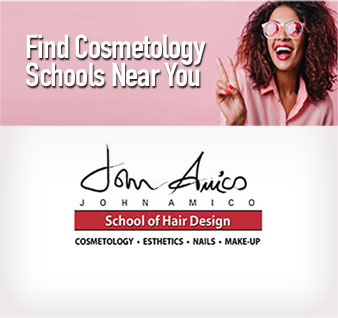 sponsored content, school availability varies by location

sponsored content, school availability varies by location

sponsored content, school availability varies by location

sponsored content, school availability varies by location
Though the price of cosmetology school varies, most programs cost less than $10,000 to complete. In comparison, two-year community college educations cost an average of $3,243 per year for resident students ($6,486 total) and four-year institutions, on average, run $9,037 per year for in-state learners (over $36,000 total).
However, students can often get government loans to cover the costs—but only if the school is accredited. You can find grants offered through state or federal government, schools, and professional organizations. For example, the Cosmetology Pell Grant will cover the entire cost of tuition. In addition, a number of scholarships are available.
Full-time students can generally complete the full cosmetology program in less than two years. If you'd prefer to go part-time, check with your state to see if there is a maximum amount of time allowed to complete schooling.
Each state also determines how many hours of class time and experience you'll need to get your license, which affects the time it takes to complete a program. According to the American Association of Cosmetology Schools (AACS), the national average for a full program is between 1,400 to 1,600 hours. For an esthetician, it's 650 hours. For an electrologist, it's 500. For a nail technician, it's 300 hours. Refer to our listing of state cosmetology boards for more information.
Cosmetology programs vary, but all provide both class time ("book learning") and hands-on training. Most curriculum includes education about hair, skin, and nails. Some provide more specialized training, such as electrolysis, hair braiding, barbering, or permanent makeup.
Specific topics you might study include:
Sanitation procedures: how to clean tools, keep a hygienic workstation, and discard waste from services like haircuts and manicures
Human physiology and anatomy , with a focus on the biological makeup and function of human skin, hair, nails, and all their associated systems
Chemistry as it relates to the body and in the products and solutions you'll use during your career
Esthetician procedures: waxing and other hair-removal techniques; peels, masks, microdermabrasion, and skin conditioning
Hair treatments: shampooing, styling, coloring, cutting, and shaping
Nails: manicures, pedicures, paraffin dips, and hand and foot wraps
Management theory , communication strategies, and the organizational and computer skills that are necessary to the trade
The first step in choosing a cosmetology school is to look at the requirements in your state. That last thing you want to do is complete a cosmetology program that doesn't meet the requirements for licensing.
People deciding on which cosmetology school they want to attend need to consider what kind of work they will want to do when they get out of school. If they aren't sure, then I would recommend going to the highest accredited school possible in their area … so that they will get the most well-rounded education possible.
Then, do your research. Look for schools with:
Accreditation to allow for licensure after graduation
Strong, specific reviews from both current and former students
A concentration in the specialty that interests you as a career goal
High graduation rates
A strong career-assistance program
Strong local ties to the surrounding community and its salons, spas, medical facilities, and other businesses where your services will be needed
It's important to note that while some cosmetology schools may allow you to satisfy portions of your academic requirements with online learning, much of the training is hands-on and must be done in person in order to pass the practical portion of the board exams. All states currently require most beauty training hours to occur in the classroom, not online—there is no such thing as a fully online cosmetology school that qualifies you for a license.
Many schools, however, are following the trend by offering more online training for the "book work" portion of the program. Online cosmetology courses offer greater flexibility for many beauty students who are juggling busy lives and existing jobs. For those hoping to attend significant portions of schooling online, you can rest assured that your training will be comparable to that of on-campus schools. Nonetheless, check with your state to ensure that online training fulfills their requirements.
Example Cosmetology Schools
There are thousands of cosmetology schools in the U.S. Find your state and city on Beauty Schools Directory to browse cosmetology schools near you. But here are just a few examples of schools and their tuition:
California Hair Design Academy
La Mesa, CA
$16,625 tuition and fees +
$1,900 books and supplies
$18,525
Toni & Guy Hairdressing Academy
Marietta, GA
$16,000 tuition and fees +
$3,047 books and supplies
$19,047
Aveda Arts & Sciences Institute
Baton Rouge, LA
$18,000 tuition and fees +
$2,500 books and supplies
$20,500
Expertise Cosmetology Institute
Las Vegas, NV
$18,280 tuition and fees +
$1,250 books and supplies

$19,530
The Final Step: How to Get Licensed and Launch Your Career
All states require you to be licensed; individual state boards issue those licenses. Each state's licensing requirements for training processes and hours varies.
Some states, but not all, allow you to participate in an apprenticeship program in lieu of some training hours. Keep in mind that most of the states that allow this tradeoff call for more apprenticeship hours than traditional training hours.
Finally, you'll have to pass an examination, which could consist of written or academic tests, hands-on performance tests, or some combination of the two.
Some states will require a minimum number of hours spent in continuing education to maintain your license. And for those who want to become a "master cosmetologist," you'll need at least a year of experience, some number of additional education credits (varied by state), and another licensure exam.
For more information, visit our licensing page.
Beauty Schools Directory Presents Career Spotlight: Salon Booth Owner
Additional Cosmetology Certifications and Training
In addition to getting your license to work as a cosmetologist, you might also choose to pursue certification. Certification is different than licensing in that it is voluntary—you don't need it to legally work as a cosmetologist. But it can help you shine for potential employers by showing your dedication and expertise.
One reason to pursue certification is to learn more about a particular area of cosmetology (for example, hair color). Cosmetologists often pursue certification after working in the field and finding an area they are particularly interested in.
Another reason to get certified is because a potential employer requires it. For example, a salon or spa might allow cosmetologists to perform microdermabrasion or hair-extension services only if they're certified in those specialties.
Becoming a Successful Cosmetologist
The cosmetologist/client relationship is often personal. From haircuts before job interviews to wedding day manicures and makeup, people put their trust in a cosmetologist's expertise and professionalism—and may even reveal intimate details of their lives. Cosmetologists who excel at making clients feel good about their appearance are often rewarded with fierce loyalty.
Every day is a new experience for me… I wouldn't trade my career for the world.
This level of trust and understanding of the importance of self-worth, combined with the physical contact between cosmetologists and clients, may explain why many nurses find their second careers in cosmetology—and vice versa. If you're squeamish about the nitty-gritty of the human body, this probably isn't the line of work for you. But if you like human contact, have a passion for beauty and fashion trends, enjoy making people's lives better, and don't mind long hours on your feet, then cosmetology can be a rewarding career for you.
Meet the Expert
Destinee Cushing
Destinee Cushing is a professional vintage hair stylist and makeup artist and the founder of Vinspire. She does freelance work full time in New York City, doing hair and makeup for photoshoots, video shoots, fashion shows, weddings, special events, and in-home beauty services. Destinee is a licensed cosmetologist in New York and has several makeup certifications in addition to her cosmetology school training. She found her passion for vintage beauty services when she started swing dancing in college, and it led her to pivot her career from Internet Marketing to doing hair and makeup. She loves her work and feels as if she's gaming the system by getting paid to do it!
Cosmetology Schools Near Me
Hot US Cities for New Cosmetologists
If you're looking for a great place to begin your cosmetology career, here are just a few of the hottest cities for budding cosmetologists.
As one of the top 10 metropolitan areas in the country with the highest employment of cosmetologists, Atlanta is a great place to launch your beauty career. This bustling, vibrant city has everything you need to find your dream career, including top-rated salons like Sugarcoat Beauty and Pika Pika Hair Salon.
The mean salary for cosmetologists in Atlanta, GA is $39,620 (BLS, 2021).
Atlanta cosmetology student's guide
Austin is a popular place to become a cosmetologist. The city is home to several fabulous salons, such as L7 Salon, Black Orchid Salon, and Bettie Bangs Salon, which focuses on retro hairstyles.
The mean salary for cosmetologists in Austin is $34,410 (BLS, 2019).
Austin cosmetology student's guide
If you want to work as a cosmetologist and do specialized treatments, Baltimore may be the place for you. With salons like Alpha Studio, Studio 1622 Hair Salon, and Crafted Hair Studios, you know the town could be perfect for a unique new cosmetologist like you.
The mean salary for cosmetologists in Baltimore is $32,810 (BLS, 2019).
Baltimore cosmetology student's guide
With a ton of salons and spas, like Orange Olive Hair Gallery, Carmen! Carmen!, and Different by Design Hair Salon, Charlotte is a popular place to begin a cosmetology career.
The mean salary for cosmetologists in Charlotte is $32,470 (BLS, 2019).
Charlotte cosmetology student's guide
If you want to work in one of the most stylish cities in the country, Chicago may be a good fit for you. They have a number of interesting salons, like Sine Qua Non, Hair Loft, and Salon Edda, so no matter what type of cosmetology you're interested in, you could find a great environment to kick off your career.
The mean salary for cosmetologists in Chicago is $30,960 (BLS, 2019).
Chicago cosmetology student's guide
Detroit is a hot place for cosmetologists, and the field is growing in the city. They have some fantastic salons, like Salon Detroit, Ezelli Salon, and Textures by Nefertiti.
The mean salary for cosmetologists in Detroit is $30,810 (BLS, 2019).
Detroit cosmetology student's guide
The touristy cities of Miami and Fort Lauderdale could be ideal for your new cosmetology career. Miami has some exciting salons like Hair Healers and Junior and Hatter, while Ft. Lauderdale features brands like Guys & Dolls and Ouidad: The Curl Experts.
The mean salary for cosmetologists in Miami / Fort Lauderdale is $29,970 (BLS, 2019).
Miami cosmetology student's guide
Nashville's cosmetology jobs are growing exponentially, meaning this could be the perfect place to start your new career. Some of the top-rated salons in the area include Dandelion, Bréon Hair Salon, and Harlow Salon.
The mean salary for cosmetologists in Nashville is $31,670 (BLS, 2019).
Nashville cosmetology student's guide
The weather isn't the only thing that's hot in Phoenix—Arizona's cosmetology field is hot, too, growing by leaps and bounds. Some of their great salons include Snapdragon, R salon, and Salon Surreal.
The mean salary for cosmetologists in Phoenix is $32,670 (BLS, 2019).
Phoenix cosmetology student's guide
The Tampa-St. Petersburg metro area could be the best place to start your cosmetology career if you want to work with people from all over the country. Some of Tampa's highest-rated salons include Bangz Salon and Monaco Salon. In St. Petersburg, you can find Salon Pearl and Truvy Salon.
The mean salary for cosmetologists in Tampa / St. Petersburg is $30,110 (BLS, 2019).
Tampa cosmetology student's guide
Politics may be the biggest topic of conversation when we hear about DC, but the city's beauty industry deserves buzz of its own. The city and surrounding areas have a ton of popular salons, including Last Tangle in Washington Salon and one80.
The mean salary for cosmetologists in Washington, DC is $38,610 (BLS, 2019).
Cosmetology Articles
Cost of Cosmetology School
Cosmetologist Salary
Cosmetology Apprenticeship
Online At Home Haircuts
Balance School with Work
Best Continuing Education Classes
Create Your Best Cosmetology Portfolio
Unexpected Jobs in the Beauty Industry
CIDESCO Licensing
Cosmetology School vs College
Cosmetology vs Esthetics
Common Cosmetology Courses
Crossover Programs
A Military Spouse's Guide to Maintaining a Cosmetology Career
Mobile Hair Stylist
Beauty to Nursing
Online Learning
Transition to Skincare

Where to Find Aveda Institutes
1765 Galleria Boulevard
Franklin, TN 37067
Sponsored
Programs:
Cosmetology, Esthetics
8188 Park Lane North
Dallas, TX 75231
Sponsored
Programs:
Cosmetology, Esthetics
21003 Encino Commons
San Antonio, TX 78259
Sponsored
Programs:
Cosmetology, Esthetics
Commercial Career